Geo Windshield Replacement
Geo General Information
Geo Model Pictures
About Geo Auto Glass Replacement
History of Geo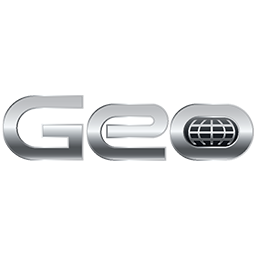 Geo General Information
Company Type: Division of General Motors
Years in operation: 1989-1997
Headquarters: Detroit, Michigan
Locations: Global
Geo Auto Glass Original Equipment Manufacturer (Geo OEM glass): Crinamex which is a subsidiary of Vitro
Popular Geo Models: Tracker, Prizm, Metro, Spectrum, Sunburst, Storm
Geo Model Pictures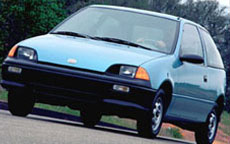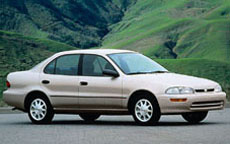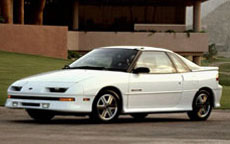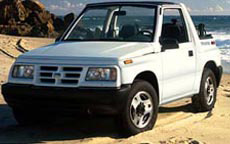 About Geo Auto Glass Replacement
Geo cars combine the technological competence of the Japanese with the efficient production methods of Americans. Excellent components, durable exteriors, and stylish designs make Geos a preferred vehicle for many Americans. What makes these cars so much more attractive is their pocket friendly price tag. If you own a car from this brand, you will surely want to keep it in pristine condition with timely Geo windshield replacement or auto glass repair. After all, there aren't many cars that give you the great value for your money that a Geo does.
Auto glass replacement for your Geo is not unaffordable but there are many popular brands that come with cheaper parts and glass. For example, you will find that replacing the front passenger door on your Geo four door hatchback is more expensive than a similar change on a Ford Escort or a Pontiac four door hatchback vehicle. In contrast, a rear passenger vent replacement on your Geo utility vehicle may cost just more than half of what the same replacement will cost for a Dodge Durango.
The Geo Prizm comes with quarter glass in addition to the front and rear windows, windshield, and back window making a total of 8 auto glass parts when you need replacements for this model. The Metro is a sleeker car with just 6 windows and no quarter glass. The Storm comes with a distinctive wraparound windshield that gives it a sporty look while the Tracker follows a typical SUV design with a large quarter glass to cover the substantial cabin space. Since each model has different auto glass needs, it is important to locate a technician who has enough familiarity with these vehicles to service your Geo windshield replacement and auto glass repair needs. Only then will he be able to keep all necessary components handy before he removes the windshield for replacement.
Not all cars are built the same way which means that slightly different techniques need to be used when carrying out replacements or repairs on the auto glass too. For example, in the Geo Tracker a separate panel is provided just to make replacement of the mirror easier. You may not find this in most other vehicles where the entire door panel has to be removed when you need the mirror changed. An experienced technician will know how to carry out repairs and replacement in the easiest way with your Geo so that it takes the least time to complete. In proportion, the cost of auto glass replacement and repair also stays low.
Geo Auto Glass Parts
Before going in for a Geo windshield replacement or auto glass repair you should find out about the kind of glass that was originally used by the manufacturer. It is always best to avoid opting for a lower quality glass than was originally used. Many older windshields were only made with tempered glass whereas you have the option of laminated glass in most recent vehicles. Laminated glass comes with a plastic sheet glued between two separate glass sheets. The plastic adhesive combination strengthens the glass and also ensures that, in case of accidents, injuries sustained from flying glass shards are minimal. Choose good quality OEM glass and parts when you need windshield replacement or auto glass repair for your Geo to get the greatest value for your money.
The History of Geo
Entering the market in 1989, the Geo was a Chevrolet brand of small cars and sports utility vehicles which was developed by GM to compete with the small import market that was growing and gaining in popularity in the 1980s. Due to waning consumer interest, the Tracker – the last vehicle produced for the Geo line – was discontinued in 2004.
GM manufactured all Geo models in joint-ventures with the two major Japanese import manufacturers – Suzuki and Toyota. The two most popular Geo models, the Geo Metro and the Geo Tracker, were manufactured in a plant in Ingersoll, Ontario and were products of GM's joint-venture with Suzuki. The Prizm was developed as a joint-venture project between GM and Toyota and was manufactured in Fremont, California. The Spectrum and the Storm are the only exceptions to the Suzuki/Toyota rule as they were manufactured in Japan by Isuzu.
In 1998 the Metro was rebranded as a Chevrolet and in 2001, the standard hatchback often associated with the Metro was eliminated and the Metro became a four-door sedan. The Tracker was replaced in 2005 by the Chevrolet Equinox. The Geo Spectrum had a short life in car brand terms being sold for only one year, 1989, before being replaced by the Geo Storm which was released in 1990. The Storm was considered the performance model of the Geo line and, like the Spectrum was produced by Isuzu.
Geo remains one of the 'Big 3' car manufacturers in North America. While the road has not always been easy for Geo, it has managed to survive in a market when that isn't an easy task to accomplish.